2020 has been a year of change for every business. At Sharktower we've been busy refining and making our project management software even better - to ensure managing future change is easier than ever.
Here, our Implementation Lead, Neil Greenhorn, takes a look back at new features we released in 2020, and reveals what's to come in 2021.
April 2020 - new mobile app notifications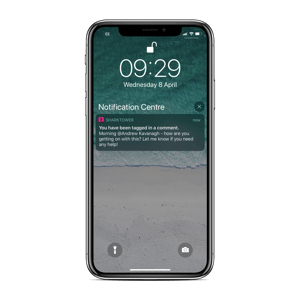 In April we improved our mobile app (available on Android and iOS).
This is a fantastic extension to our suite of tools for staying in the loop and keeping in touch with your teams.
Now you'll always have the information you need at your fingertips and be alerted with updates wherever you are.
May 2020 - a project overview re-design
In May 2020 we rolled out a re-design of our Project Overview page, with some key features added.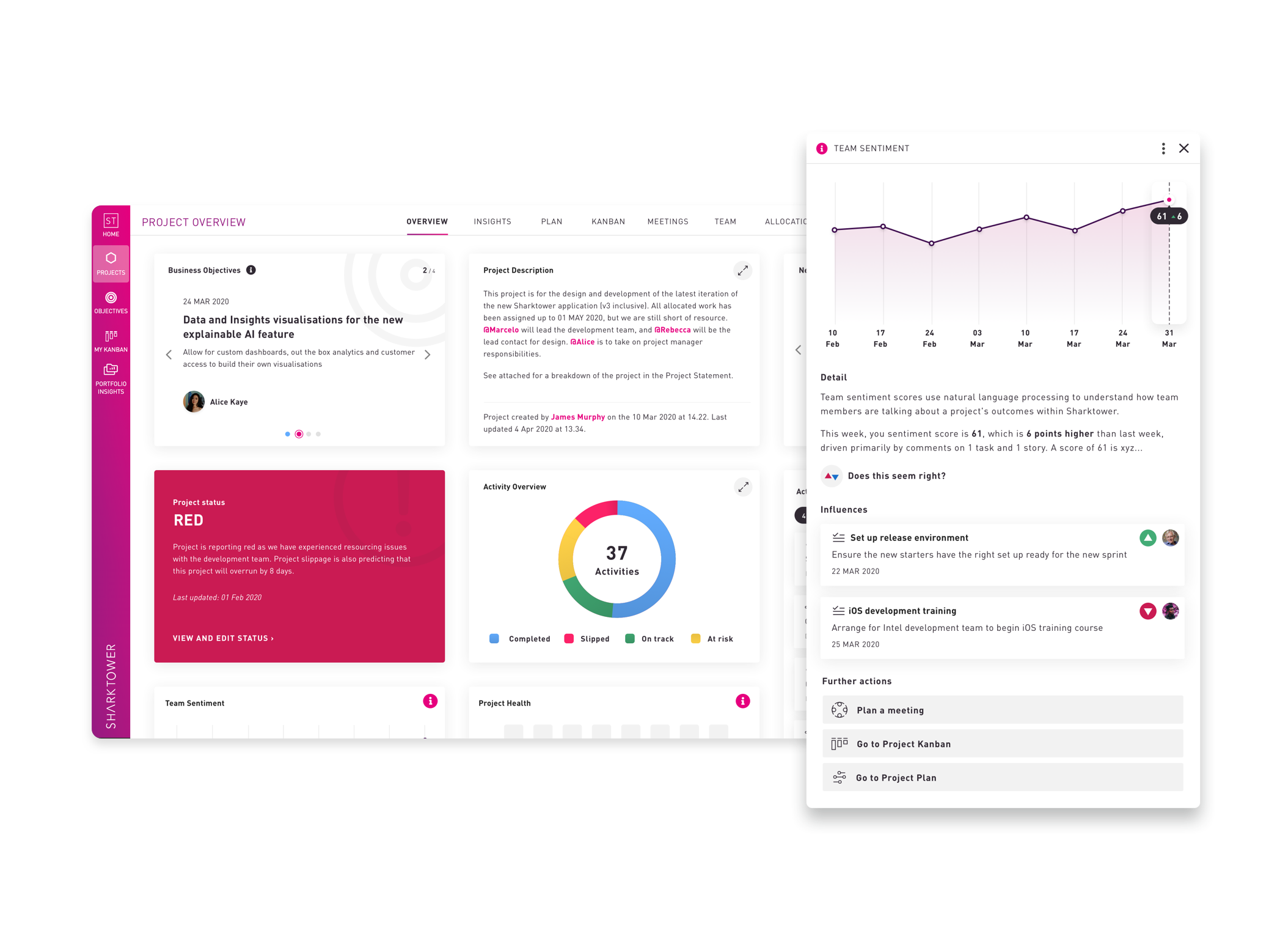 The re-designed project overview page, released in May 2020
A major User Experience overhaul, with extra visual polish and more of the information you need.

Our Project Health, Slippage and Team Sentiment charts were moved to this page and we added in-app explainability for each model. So now you can understand your scores more clearly, and know what to focus on to make your project even better.

Activity updates can now be viewed across 4, 8 and 12 weeks, so you can see what's overdue, completed and due to be completed as a feed.
June 2020 - a makeover for project plan views
We updated the zoom levels which are now focused more on timeframes and, with improved styling, all elements of the plan can be viewed and interacted with at every zoom level.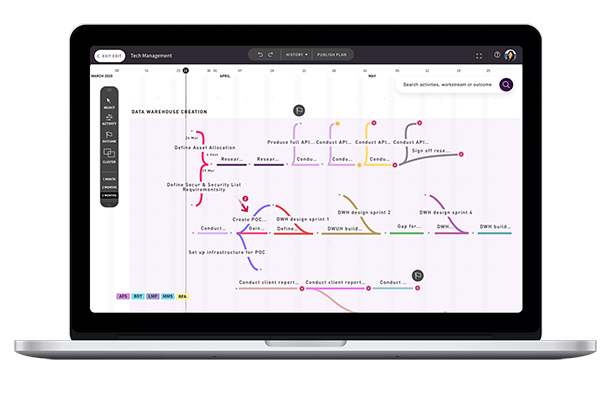 What changed?
New toolbar zoom options to focus on periods of time rather than '%'
Visual styling of plan elements (activity lines, nodes and icon sizes) are clearer at all zoom levels.
Cluster names and activity names are readable in all views and if too long, accessible via tool-tip.
We removed the gradient between workstream and activity status: activity status is now visible as a glowing node (if 'At Risk' or 'Slipped').
You can now select any colour you like for your workstreams and clusters.

October 2020 - improvements to Risks & Issues
In October we rolled out some improvements to the way we capture risks and issues.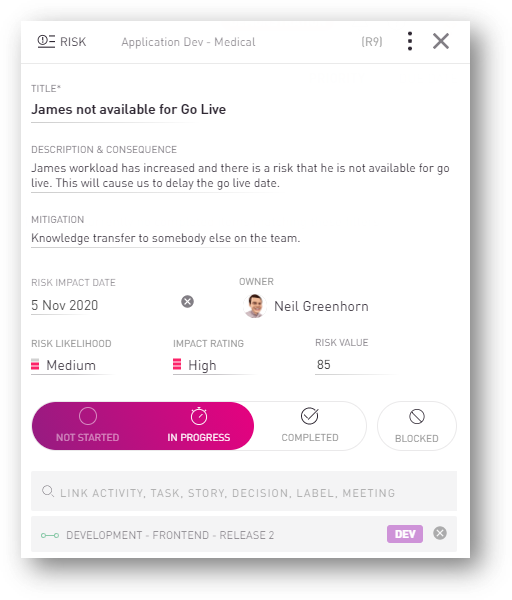 Risks
New fields allow you to add more detailed description around consequence & mitigation
Ability to assign a risk impact date, risk likelihood and an impact rating
Option to add in a risk value
Link relevant activities and other work items associated with that risk
Issues
Ability to assign issue impact
Option to add an issue value
Link relevant activities and other work items associated with that Issue
November 2020 - new project allocation feature
Allocation is the process of planning, scheduling, and allocating resources in the best possible way. The ultimate aim is to maximise efficiency, which, in turn, will help the success of your project, task or monthly objectives.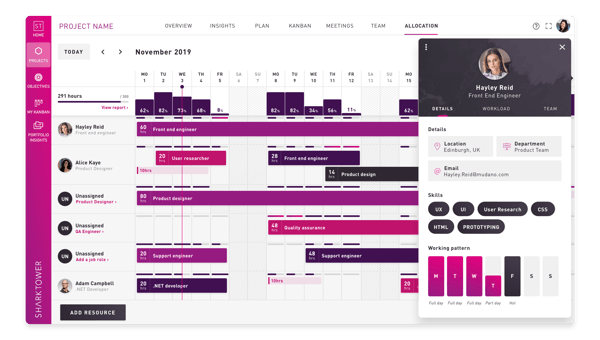 Project allocation allows you to build project teams based on each team member's skills, working patterns and capacity
You can now build project teams based on each team member's skills, working patterns and capacity. You also have a bird's eye view of your allocated work, giving an ideal timeline of the project to foresee and avoid problems.
Key features:
Allocate work to project team members and manage capacity

Add 'unassigned' resource and assign a job role to complete initial planning

View your project's utilisation summary per day or over time

Comment & tag users on specific work allocation items to discuss, plan and collaborate resource demand


December 2020 - Portfolio reporting (part 1)
Customers told us they needed an overview of Risks & Issues across multiple projects and portfolios in order to monitor and track risks. So we got on the case.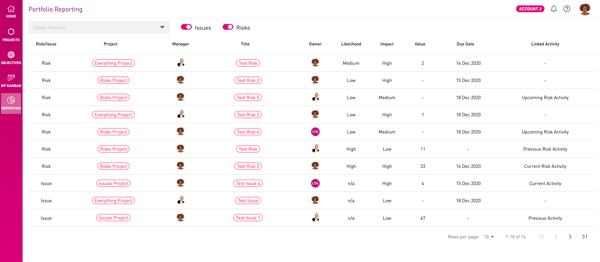 From the Reporting option on the left hand-navigation bar, you can view your entire organisation's risks and issues then filter down to your portfolio or sort by Project, Title, Value or Due Date.
You can also interact with the Project and the Title of the Risk/Issue for more information.


Coming in 2021!
Get ready for budget forecasting
Early in the year we'll be releasing a budget forecasting tool which will enable you to track spend against the forecast and view the delta.
This information will be available in the Project Overview page as well as a dedicated Budget section within the project.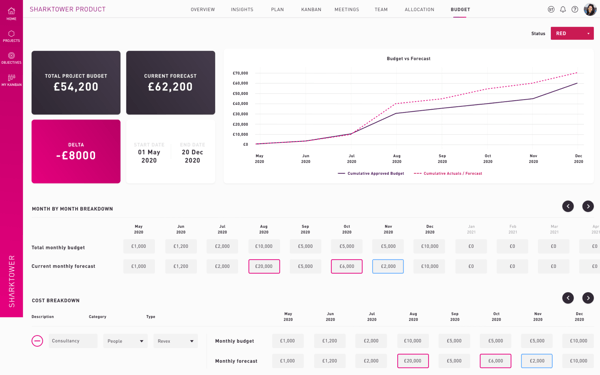 The new budget forecasting tool will enable you to track spend against the forecast and view the delta.
Watch out for a product homepage re-design
After reviewing feedback and speaking to our users we have designed a new data rich homepage.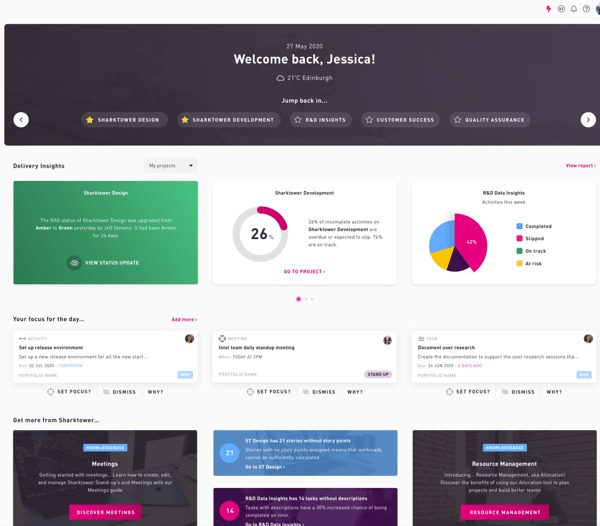 A sneak peek of the new product homepage due to be released in 2021
Some of the key features to expect in the new homepage:
Assign 'Favourite' projects to get immediate access to their overview pages

Visual delivery insights across your projects

Easily update your 'Focus for the Day




Not using Sharktower yet?
All the project management trend predictions put intelligent project management software high on the list for 2021. So give your business a head start by booking a demo and free trial of Sharktower early in the new year.
Go to the trial request page
Submit your details (including your work email address - we'll never share your data with anyone else).
We'll get back to you ASAP to schedule a call to determine your priorities and ensure Sharktower can support you at every stage of the process.