Now in BETA and launching soon to all users, our new and improved Resource Allocation feature will enable users to build project teams based on team skills, working patterns and capacity to maximise resource efficiency.
It shows a bird's eye view of each project, overlaid with other organisation data to give resource transparency across the whole portfolio. This will enable users to manage and plan resource in an ideal timeline, and to foresee and avoid problems.
Why we built it
All organisations naturally want to ensure their people are productive and contributing to the success of change projects to meet business objectives. Even more so following the global pandemic, teams are disparate; with project managers and team members working remotely.
As a result, many businesses find themselves working with reduced resources to deliver tighter deadlines than ever before. But with traditional methods and software, it's never an exact science.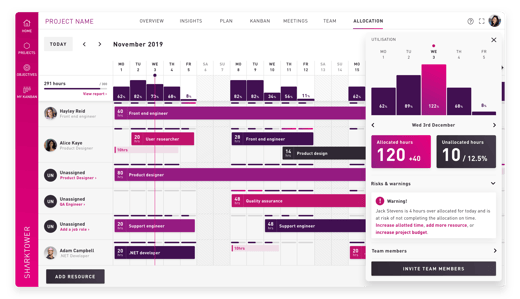 Sharktower's Resource Allocation feature enables users to build project teams based on skills, working patterns and capacity
What it enables users to do
Search for resource based on people, skills, job roles or location
Add "unassigned" resource and assign a job role to complete initial planning
Plan skills demand and manage team allocations
View project utilisation summaries per day or over time
View resource capacity across your project and others within your organisation
Report on budgeted effort, allocation by role and allocation by team member
See Resource Allocation in action
Watch the walk-through to see how Resource Allocation makes resource management more simple and efficient.
Get a personalised demo
If you're facing resourcing challenges and want to see how Sharktower could work for your business, hit the 'REQUEST A DEMO' button or email info@sharktower.com
Team Sharktower